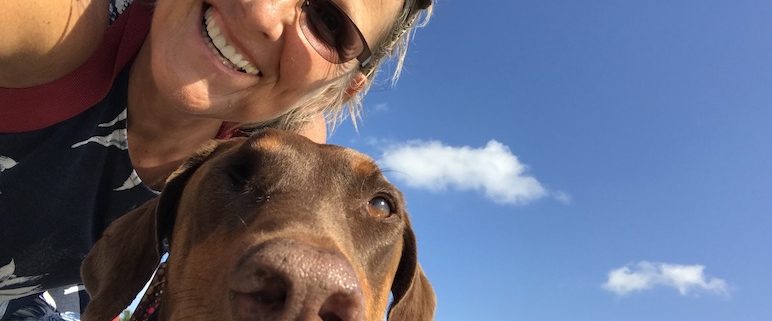 This last day of 2017 began the same way as the first day of this year – with an 8km walk to Playa Grande, Montezuma, Costa Rica, at sunrise with Coco. It was absolutely stunning, exquisite and uplifting. As I walked along on the hot smooth wet sand, on one side the open, warm Pacific ocean; on the other side wild jungle; the roaring of the howler monkeys in the trees, and the screeching of the parrots. Nobody else but Coco and me. Although I must have walked on this beach 1001 times, I never tire of it.
Appreciating every moment as a completely new experience is a practice I have found very healing over the past two years. And as 2017 comes to an end, I am happy and my body is healthy; life is thriving within me.
Of the countless moments I celebrated in 2017, two experiences stand out as a theme, the melody of every day: love and aliveness.
When I talk about love, I mean the love that surrounds me as I am alive – in nature, grocery shopping, playing with Coco, welcoming new guests to my vacation rental Casita, laughing with the cashier at the hardware store who also had cancer once, pruning the tropical bushes that Steve planted… the big unconditional love that is always there. I also mean the love that I have shared with my friends and family, with my community and the readers of this blog this year. Some of my old friends I had not seen or been in touch with in over 20 years, and the love was still vibrantly alive. Reconnecting with family members I had not spoken to in 10 years, it felt like no time had passed at all. Being able to love my father while he was still in his body and then letting him go. Reading all your comments of love and support and understanding, of you being touched. Love is all-pervading.
Love goes beyond life and death; I always thought that, but now I know it. The love for Steve shows itself in many ways although he is no longer alive. Strangely enough nowadays I understand aspects of him and the way he saw life that I had not grasped before. I often wish I could say to him in person, 'Yes, you were right, after all'. Or, 'Wow, now I understand about the plankton that burned your skin when you went surfing, and that's why you wore that sexy slinky full-body suit when immersed in the sea!' Even though I cannot say it to him, really, I do say it out loud, and maybe, somehow he will hear it. Steve's love is present inside of me, inside of our beautiful doghter Coco, in his children, in all the people who knew him, and in the paradise around me.
Simply put – love in all its aspects has been an amazing gift for me this year.
When I embraced Osho as my spiritual teacher, he wrote to me, "God comes as love, he showers on us as love, so when love starts moving you, know perfectly well that God is very close by. Let your life be a love affair." Once again I understand these words anew. I used to think that he meant that I should have many lovers. Then I understood it to mean that I would have a love affair with the divine mystery. But now I simply feel – love. THE love.
And aliveness – what a miracle, I mean, really – what a mystery this life is! I made it through the most horrible events and I am still alive; amazing, incredible. Our life and the life of our loved ones can end so quickly, so unpredictably, that to me it has become very important to celebrate being alive, to give attention to the fact of aliveness, and the presence of love. We cannot take it for granted, this life. It will end, one day it will end, and in the meantime let's marvel at the power of it and at the privilege and the inexplicable presence of life in our bodies and all around us.
With these musings I wish you a very happy, healthy and ecstatic new year. May your life be abundant and vibrant with love and aliveness.
From my heart to yours. ♥
"Love should be like breathing. It should be just a quality in you – wherever you are, with whomsoever you are, or even if you are alone, love goes on overflowing from you. It is not a question of being in love with someone – it is a question of being love." ~Osho
https://lokitacarter.com/wp-content/uploads/2017/12/Cocoloco.jpg
580
772
Lokita Carter
https://lokitacarter.com/wp-content/uploads/2017/09/imageedit_37_2043000783-300x96.png
Lokita Carter
2017-12-31 12:07:04
2017-12-31 12:07:04
2017: Love & Aliveness