Today marks the 69th anniversary of Steve's birth. I had planned some time ago to release most of my part of his ashes into the ocean on this day. Honestly, I wasn't sure if I was going to write about it here because this is such a private, intimate and sacred occasion but since something funny, irreverent and even Steve-like happened at the end, I decided to share it. Please don't continue reading this if you think it is inappropriate to write publicly about this ceremony.

So, off we went bright and early at 7:00am: my friend Bee, three dogs – Coco, Linus, Mamadog – and me. The previous evening I had prepared everything to make a beautiful ceremony. It is an intense 45-minute walk to Playa Grande, Steve's favorite beach, and it is hot and humid here right now; so I decided to wear nothing but my bikini. I left my other clothes in the car.
The beach is about a mile long, and it was low tide, the perfect time to be there. After a short ritual, Bee and I walked along the waterline, releasing bits of ashes. We drew hearts in the sand, wrote messages of love with Steve's ashes, and watched the ocean waves slowly and gently take them away. Bee was the flower girl; she released red petals and leaves from Steve's favorite tropical plants into the sea.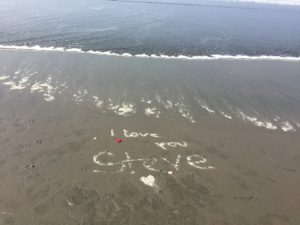 Soon there was only a little bit left of the precious dust, we were at the end of the beach, a very special place. There is extremely fine black sand, ideal for rubbing all over the body; it is the ultimate natural exfoliation treatment. Those of you readers who participated in one of our tropical Tantra vacations in Tambor or Montezuma know exactly the place I mean! And it is pretty deserted; not many people come by. The occasional horse riding excursion, that's about it. Steve and I had spent many hours frolicking right there.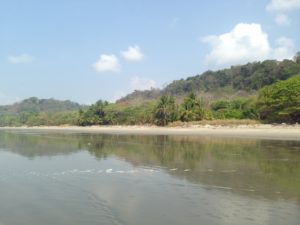 In keeping with the tradition, I took off my bikini and prepared to take the remainder of the ashes with me into the ocean. I dusted some on my heart and went in. It was beautiful. The ocean was warm, and I felt very connected to Steve, to life and the elements. I opened my hand and watched him become one with the water. Coco was right there beside me. Releasing his ashes today, and like this, is perfect, I thought. Steve would have liked that.
Then, out of nowhere, a large wave came in. It rolled over Coco and me. Linus got out in time.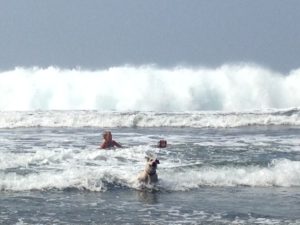 From my location in the champagne part of the water, I saw Bee struggling to get our bags to a dry place. To help her, I got out of the water as quickly as I could, naked.
Reached our things, saved our snacks, the dog leashes etc – and then, guess what: my bikini was gone, nowhere to be seen, washed away! We searched around, among the rocks, in the waves, everywhere; but eventually only found the top. The bottom had vanished into the sea.
The releasing of Steve's ashes was a very sacred, serious and important occasion, yet it was quite the funny ending to our ceremonious morning – here I was at the place of our many frolics, Steve has dissolved into the ocean, and he took my bikini bottom with him! I am sure he had a good laugh, wherever his soul may be.
(Fortunately Bee had brought a scarf which I wrapped around my hips to get back into town dressed!)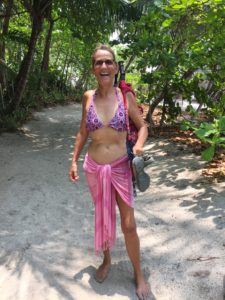 https://lokitacarter.com/wp-content/uploads/2017/04/Steve_Heart_2.jpg
1655
2448
Lokita Carter
https://lokitacarter.com/wp-content/uploads/2017/09/imageedit_37_2043000783-300x96.png
Lokita Carter
2017-04-25 15:25:08
2017-04-26 18:54:22
Happy Birthday Steve ❤