It is the day after Steve's killers were sentenced to a combined 165 years in prison. I woke up to sunshine in Marin County after a long, deep sleep. The legal process is over, was my first thought. But my heart is still heavy from the intensity of sitting in the court room, hearing the statements from Steve's beautiful kids, Audrey Carey's mother Isabelle and addressing the killers directly myself.
It was heartbreaking, all over again to hear of their pain and anguish and the impact the murders had on their lives.
There were many police officers in the room as the prisoners were brought in, one by one, with chains rattling around their feet, their middle and hands as they entered the room. It was an eerie sound, which was both oddly comforting and terrifying.
The three convicts had become overweight, pasty people with long, strange, slimy hair. What do they do in jail, I wondered – eat all day and don't move at all?
There were so many tears, and emotions. As I walked up to the prosecutors' desk to deliver my statement, I felt powerful; my red jacket my "Coat of Armor", as a friend had described it. I opted to stand and speak freely, instead of sitting and reading a statement. While the rule of the court is that one must address the judge, I was allowed to occasionally look over to the prisoners who sat close by to the right.
It was very intense. I heard my own voice speaking loudly, slowly and clearly to those present. My body was trembling but my voice was strong and firm. The acoustics in the courtroom are not that good, I remembered from last time that people in the audience could not hear what I said. So I spoke extra loud. Later, I realized that it had come across as angry, rather than just loud. Ah well. I guess that was a good thing, in some way, because the anger is there, too.
Then my impact statement video was played. It was recorded five weeks after Steve was killed, when I thought that I might be dead by the time the sentencing comes around – from cancer, from a broken heart, from a broken life. As you will imagine, it is a very sad document of what I went through back then, so close to the murder.
As the video was played I sat in-between the two prosecuting attorneys. Seeing the video on the big screen – me with a bald head, completely bereaved, traumatized and in shock – it was very confronting. Self doubts crept in – was the video too long? Did I say the right things? Should I have said more about who Steve was? The voice of my inner critic was loud but luckily disappeared pretty soon.
Sitting where I was, I had 17 minutes of uninterrupted views of the three murderers and their attorneys. Angold, who was closest to me, had his head down the entire time. The press later wrote that he was crying. All I heard was him sniffling. He certainly did not use any Kleenex to blow his nose or wipe away his tears!
Then came Lila Alligood. 19 years old. She sat there, her face contorted in a crying position, tense, sad, her nose red. Of the three, I sensed the most humanity in her.
Then Lampley – looking like a dead shell of a human being. No movement, no emotion. Nobody's home. Later, in the press coverage, I saw a close-up video of him where he looked over the rim of his thick glasses, and to me, his eyes looked like those of a cold-blooded killer if I've ever seen one, a severely mentally disturbed man.
My heart was beating loud but I felt powerful. The crimes they committed are horrific, senseless, evil, unforgivable, but I felt sorry for them, too, sitting there looking at them. Sorry that they ruined their lives. Sorry that they had such a difficult life that they had to do the horrific things they did. That they will live in the most horrible places – hell on earth, I said in my statement.
The prisoners and their attorneys also had the opportunity to speak. Angold's attorney read some statement from him about shame and guilt. Ah well. Lila Alligood delivered her own statement of apology, speaking freely, how sorry she was, she cried. I take my hat off to her; at least she had the guts to speak herself rather than have her attorney read something!
Lampley's attorney read a letter that I had already received a few days before the hearing. Who knows who wrote that letter, it sure did not sound like it came from the person who I saw in that courtroom yesterday! In any case, the one sentence that resonated with me, somewhat, was "I hope you can find peace some day". Yes, I can.
After the court session was over, a journalist outside asked me how I felt about the statements from the killers. I said it left me with nothing. I just felt empty. No emotions.
Finally it was time for the sentencing. I had imagined that each of the prisoners would be asked to stand to receive their sentence, like they show on TV. Defendant, please rise! But I guess that is only part of the movies. Judge Simmons read the sentences matter-of-factly and the prisoners were led out of the room.
I sat there as the court room slowly emptied out, the video equipment was taken down, papers were shuffled around and put on shelves with wheels, computers closed, cell phones checked. It was like sitting in a movie theater after the intense film is over. Life goes on around me, and I am still sitting there. Fully present, wide awake and at the same time totally drained.
I was one of the last people to stand up. I knew that outside the court room was a throng of journalist, waiting for the family. The others, my family, had decided they did not wish to face the media but I wanted to. The final thing in this process.
The media have been nothing but excellent and kind and amazing in their reporting of these unspeakable crimes, and I felt I owed it to them to be seen.
I took a deep breath and stepped through the large door. Flashes, cameras, large video equipment, lots of journalists, and microphones were pushed in my direction. I felt strong, clear, and yes – even attractive. I knew I looked good on camera, I had chosen my outfit carefully. (One does think about things like that, even in such extreme situations!) Plus I have no fear of cameras. I can do this! Yes, even after my beloved's killers were just sentenced to spend a million lives in hell.
I would have liked to have answered everyone's questions, but somehow I found myself on the arm of the main investigator at the elevator before I knew it. Couldn't even hug my friends goodbye who had come in support and their own quest for some closure. Everything happened so quickly.
Then, after a brief conversation with the prosecutor, it was done. Over.
I walked out into the sunshine with my lovely sister, who had come all the way from Denmark to be with me at this intense time. We spent the rest of the afternoon sitting by the water in Sausalito, decompressing, eating ice cream, watching the sea and the birds and the people, life continuing as normal.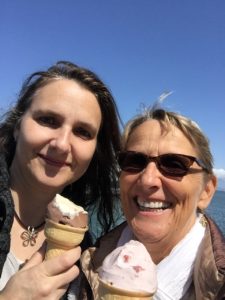 If you are interested to read my verbal statement to the court, click here. I am still considering if it is appropriate for me to share the video impact statement. Probably not.
https://lokitacarter.com/wp-content/uploads/2017/04/Lok-Court.jpg
1024
887
Lokita Carter
https://lokitacarter.com/wp-content/uploads/2017/09/imageedit_37_2043000783-300x96.png
Lokita Carter
2017-04-19 09:09:53
2017-04-19 22:58:29
Sentencing