This post that is not for the faint of heart. Graphic details follow. It is a hard, sad read. But it must be said, for the record, now that the legal process is almost complete. In all the media reports about Steve's murder and the court process, it was written that Steve was with our dog, Coco. All reports referred to it as, "The dog was also shot but survived". Some mentioned that she was on the leash.
Morrison Haze Lampley pled guilty to two first degree murders – Steve's and Audrey Carey's in San Francisco a couple of days earlier. He also admitted to using the firearm intentionally when he did use it. Lampley had a total of 10 charges to his name, but the other eight will be dismissed during the sentencing hearing on Tuesday. One of the dismissed charges was for animal cruelty.
Lampley's conviction papers will not show that he is guilty of animal cruelty – which really, he is – so I want to advocate for my dog who cannot speak for herself.
After shooting Steve, Lampley put the gun to Coco's right eye and pulled the trigger. The bullet traveled down through her skull and came out at the back of her left jawbone, shattering part of it. Coco was severely injured. When the First Responders arrived, Coco was quietly, calmly standing by Steve's side, still leashed, bleeding profusely. She was not barking, crying or whimpering. She was not lying down.
Let me say this again: Coco was still standing calmly, severely injured, with her favorite human Steve lying shot dead by her side.
Learning the details of Coco's bravery, only a couple of months ago, broke my heart all over again. My dog. Oh, the pain in my heart. Coco was still standing. How can I ever look at her without crying?
I was told about the murder at 3:30am on October 6th, 2015. It took until the evening that day to find out what happened with Coco. Where she was. I was completely freaked out, and today still give thanks to those friends who gave everything they could to locate Coco for me.
Coco was rescued, taken to an emergency clinic, and Marin Humane Society funded her intensive medical treatment — she spent almost three months in a leading specialist veterinary hospital. I was not allowed to visit her there at first because of our emotional trauma – hers and mine, and because she was "evidence". But when we did see each other after three weeks there was so much joy!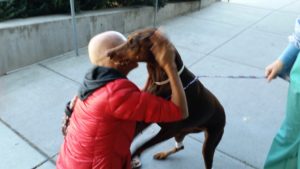 Coco lost her eye, several of her teeth, and received a prosthetic jaw implant, in a surgery by a revered and highly specialized canine dental surgeon. It was discovered that she has a bleeding disorder that prevents her blood from clotting. Many blood conserves had to be found that match with Coco's blood so that she could undergo surgery safely. That the dog is still alive is a complete miracle!
That's why she is also known as Coco the Wonderdog.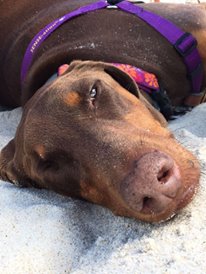 If it had not been for Cindy Machado from Marin Humane Society and those generous souls who donate to MHS, Coco would not be alive today. Coco and I have received so much love and support from Cindy and her team, and MHS at large, I can never thank them enough. Same for the doctors, nurses and the entire team of the veterinary hospital. Coco was taken care of with so much love, tenderness and determination to save her life and to give her the best treatment available.
Due to her jaw injury, Coco is no longer allowed to chew on bones or do any rough mouth play with other dogs, and play tug or similar. She has adapted extremely well to having only one eye, and when we play fetch, she fetches with the right side of her muzzle. She made it. Her life is good.
Coco is my lifeline. I have said this many times to my closest, most trusted friends, and to my therapist – if it had not been for Coco surviving, I would not be alive today. Coco inspires me with her courage. Her zest for life. Her amazing strength and her ability to move beyond the trauma into the here-now. She gives me hope and strength.
A few days after she was released from the hospital back in late December 2015, I took her to the place where they were shot. I was afraid what her reaction might be. She just sniffed around, looked at the image of Steve and the flowers there, and moved on.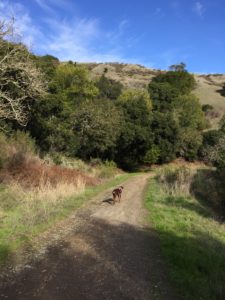 For a little uplift, watch Coco run.
https://lokitacarter.com/wp-content/uploads/2017/04/Coco-on-Sofa.jpg
817
1399
Lokita Carter
https://lokitacarter.com/wp-content/uploads/2017/09/imageedit_37_2043000783-300x96.png
Lokita Carter
2017-04-15 12:38:13
2017-04-16 22:31:23
Coco was still standing