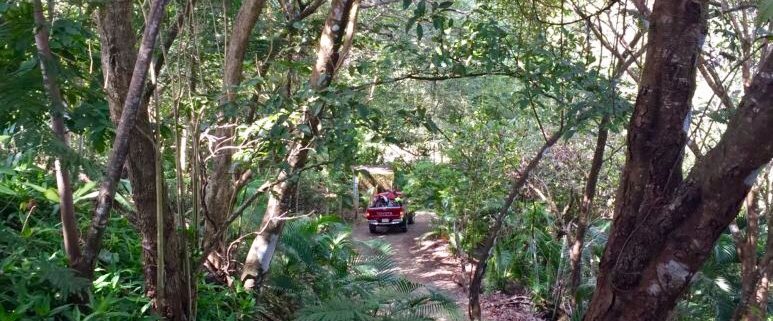 To return to this place where Steve and I had lived has been hard. Sad, joyous, lonely, pointless, exciting. There are some high moments in the deep valleys. Great joy, deepest pain. Overcoming dualities. After I left in a frantic haste following my breast cancer diagnosis, Steve had packed up all my belongings, indeed our entire place, before coming to California to be with me for the cancer treatment.
Imagine returning now to a garage full of dusty boxes, suitcases and bags, filled with stuff, all sorts of stuff. For me it was definitely not the kind of ecstatic homecoming that Coco experienced when we got here! And then there were all of Steve's clothes, his sacred items, his tools, his beloved red pickup truck, his motorcycle.
Some months ago I had made arrangements to swap the pickup for a different car, and to sell his motorcycle, ideally without having to see them again – so many memories – upon my arrival. But as life had it, it did not work out that way.
I found myself driving the pickup for several days. Everything in that car reminded me of Steve. My great spiritual practice to let the car simply be a car was intense and not exactly successful. I cried a lot. The sound of the motor starting. Coco lying under the car waiting for him to take her some place exciting. The smell of the car seats. The way the car rattled up the driveway. Every single detail radiated Steve. I quickly got attached to the car.
Steve's motorcycle in the garage also gave me some kind of comfort. The memory of his joy each time he started it and drove off to yoga. His boyish smile of delight when he could fix some small thing on his bike. Even though I never sat on it, and never liked him having it to begin with (too dangerous), I quickly got attached to the bike, too.
But, as I said, I had made arrangements. It was too late to turn back. The day came when the two vehicles were to be picked up. A friend and I washed the pickup and got the bike ready. Coco must have known what was coming. First she would not get off the back of the truck, then she wouldn't come out from underneath.
When finally the bike was loaded up and secured, the car ready to go, I cried my eyes out while having to drag Coco out from underneath the pickup. The young Costa Rican man whom I had arranged this with, a longtime friend of ours, had tears in his eyes, too. A sweet moment in time.
And then they were gone. For the last time Steve's treasures were driven down our driveway. They disappeared from view. I stood there with Coco by my side, for a long time.
A car is a car until it is not just a car.
And then again, it is a car.
Releasing attachment is the most challenging practice. Letting go again, and again and again. And again.
One day you will disappear on a funeral pyre — just into nothingness, as smoke. Don't get attached to anything. This attachment takes you away from your real being; you become focused on the thing to which you are attached. Your awareness gets lost in things, in money, in people, in power. And there are a thousand and one things, the whole thick jungle around you, to be lost in.
Remember, non-attachment is the secret of finding yourself, then awareness can turn inwards because you don't have anything outside to catch hold of. It is free, and in this freedom you can know your self-nature. ~Osho
https://lokitacarter.com/wp-content/uploads/2016/12/IMG_1313.jpg
1030
773
Lokita Carter
https://lokitacarter.com/wp-content/uploads/2017/09/imageedit_37_2043000783-300x96.png
Lokita Carter
2016-12-28 22:00:56
2016-12-28 22:18:40
A Car is a Car until it is not Just a Car