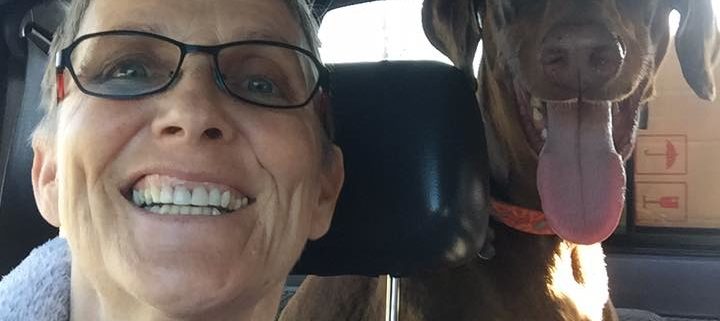 17 months later. We drive along the dusty road. Palms, hills with flowering trees, Brahma cattle grazing lazily, in the distance the ocean – Coco, laid back tranquilo Coco goes completely crazy with excitement. There is no doubt in my mind that she senses where we are going!
The moment we arrive at our home, she turns from the docile companion Wonderdog she has been into the Tropical Superdog she was back when.
Coco erupts into fits of ecstatic rapture. She jumps into the pool, rolls in the grass in 1001 locations, runs around, patrols the circumference of the property with her nose stretched forward, barks at the iguana in the tree and the monkeys below, plays, gets back in the pool, runs around some more… the garden, the house, the grounds – it is hers, all hers.
I sit down, devastated and stunned to have to witness all this without my beloved, yet admiring the glorious views, and relishing the size of the tropical plants which were small when I left, and are now 10 feet tall. I am surrounded by the beauty of paradise and my heart overflows watching Coco's expression of purest joy to be here.
As I allow myself ever so gently to tune into the soft energy of the divine mystery, I feel this – Steve thanking me for bringing him and Coco home.
https://lokitacarter.com/wp-content/uploads/2016/12/Loko_Coco.jpg
960
720
Lokita Carter
https://lokitacarter.com/wp-content/uploads/2017/09/imageedit_37_2043000783-300x96.png
Lokita Carter
2016-12-19 15:14:28
2016-12-20 03:44:50
Steve is at Home